Poverty Amid Plenty on Long Island - Wyandanch, NY
Event Description
On September 12, 2017, approximately 150 people gathered for Poverty Amid Plenty on Long Island: A Truth Commission at Our Lady of the Miraculous Medal Parish in Wyandanch. The 12 Long Island commissioners represented labor, faith, direct service and advocacy organizations. They included 9 commissioners from Long Island, two state commissioners from the Hudson Valley and the Southern Tier, and one national commissioner with the Kairos Center. The commission heard testimony from 19 individuals, and an additional four people submitted written testimony.
Those giving testimony were a mix of people currently experiencing poverty and other forms of oppression, those who had in the past, direct service providers, policy experts, and organizers and advocates from community organizations. A number of those testifying fell into more than one of these categories. The topics addressed included low wages, lack of healthcare, homelessness and inadequate housing, insufficient response and dehumanizing treatment from social services, exploitation of farmworkers and other low-wage workers, injustices in the criminal justice system, threats to undocumented immigrants, oppression of the transgender community, inadequate resources for public schools, housing discrimination and structural racism.
Co-Sponsors: Labor-Religion Coalition of NYS, Fiscal Policy Institute, Kairos Center for Religions, Rights and Social Justice, Health and Welfare Council of Long Island, Long Island Cares, Long Island Council of Churches, Long Island Immigrant Alliance, Long Island Jobs with Justice, Long Island Progressive Coalition, Metro-Suffolk Association of the United Church or Christ - Social Justice Committee, Rural Migrant Ministries, Sisters of St. Joseph - Brentwood, Wantagh Memorial Congregational Church, Unitarian Universalist Congregation at Shelter Rock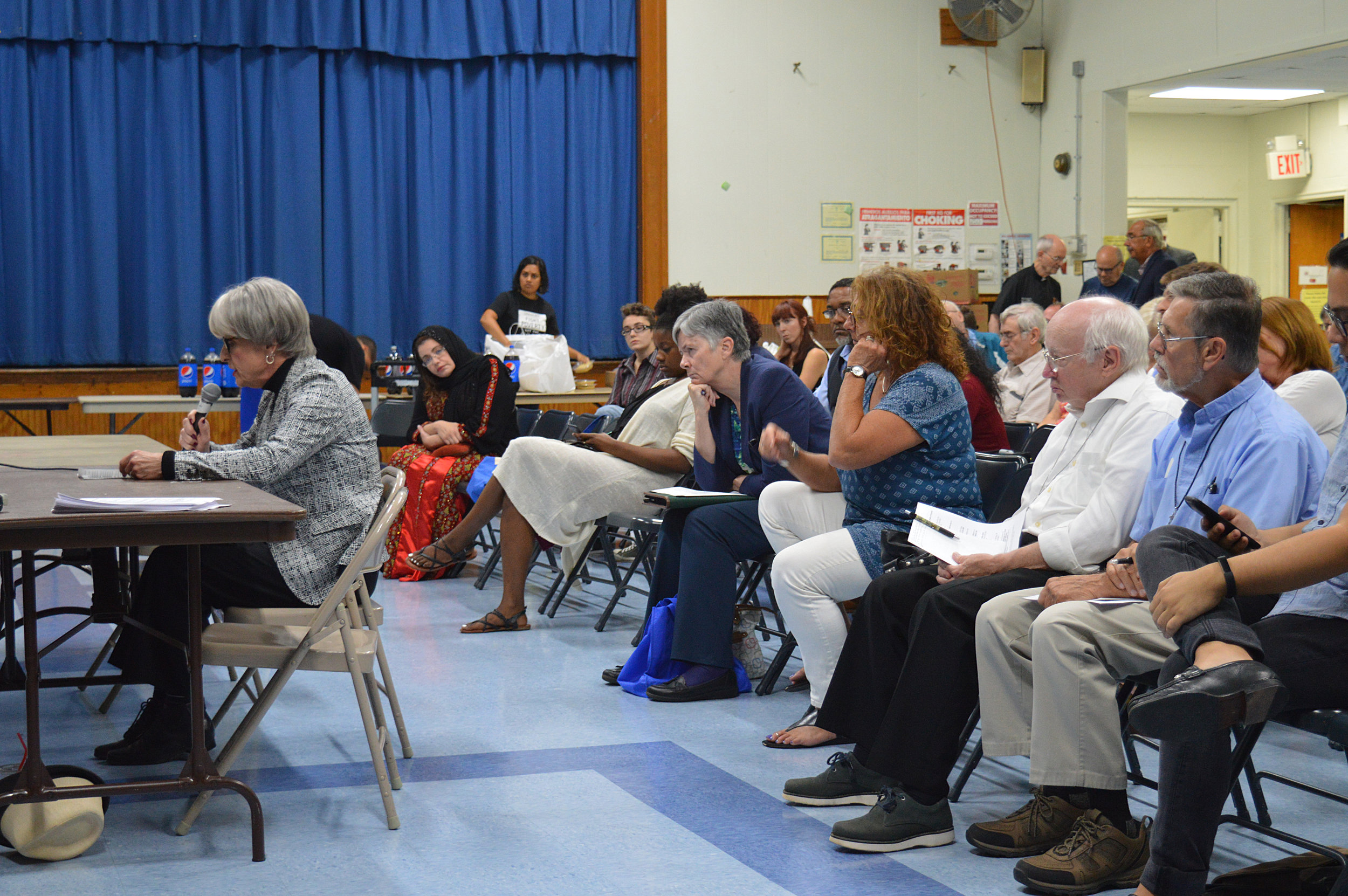 Testifiers (and organizations, where applicable)
Blanca Villanueva, Alliance for Quality Education
Alisa Drinkwater, Long Island Housing Services
Carmen Castro
Rev. Kate Jones Calone, Open Door Exchange, Setauket Presbyterian Church
George Kimball, UFCW Local 2013
Roger Weaving, Huntington Township Housing Coalition
Juli Grey-Owens, Long Island Transgender Advocacy Coalition
Diane Motyleski, UFCW Local 342
Shanequa Levin, Every Child Matters
Charlotte Koons, New York Civil Liberties Union
Nathan Berger, Rural Migrant Ministries
Eugenia Woods
Deborah Kirnon
Jean Kelly, The Interfaith Nutrition Network (The INN)
Dorian Stern, The Interfaith Nutrition Network (The INN)
Ty Hopkins, The Interfaith Nutrition Network (The INN)
Lisa McQueen-Starling
Theresa Sanders, The Urban League of Long Island
Diana Weaving
Written testimony
Sister Nancy Feckner
Mariana Pineda
Port Together (a group of Port Washington residents who are concerned about social, economic and racial equity)
Elaine Gross
Dorian Stern
Written Testimony
Sister Nancy Feckner
It is a gift to join people across Long Island in sharing our efforts to reduce poverty. Thank you for this opportunity. As a Sister of St. Joseph, I have ministered as a volunteer in Hospitality Too Soup Kitchen, Peanut Butter and Jelly Gang, and St. Anne's Food Pantry. There I am rooted in the lives and struggles of families and individuals living in the community of Brentwood. Some are homeless, veterans, day laborers, the elderly, and families with children.
The latest statistics from the US Census Bureau states that their are 43 million poor people in America. One in 3 are children, and 70% of the poor children are children of color. Poverty on Long Island follows the nation with two classes of children, and millions living in Third World conditions.
I believe that two of the main underlying causes of poverty on Long Island are:
1...Income inequality.....low wage employment / gender wage gap...over 90% of poor children live in a family where at least one family member works.
2....Ethnic and Racial Differences....African -American and Latino families live in poor neighborhoods with high unemployment and experience discrimination. In some cases incarceration adds to the poverty.
Some of the Public Policy Recommendations I offer are:
1..... Raise the minimum wage to at least $15 per hour, and offer paid sick leave and family leave.
2..... Protect and expand The Earned Income Tax Credit.
3...Provide affordable Health Care for all.
Our nation's budget should reflect our nation's values. Yet the proposed 2018 Budget does the opposite. Millions will be cut from health care, nutrition, education, and housing. The budget will create more inequality, which is bad for America and for Long Island! With Hope let us continue to bring life and healing to many!
Deep gratitude to the members of the Long Island Poverty among Plenty Truth Commission for this opportunity!
Mariana Pineda
A few year ago, I was teaching in NYC. There were things happening in my school that did not sit well with me, things that were unethical at the very least and likely illegal. I left to go work in a non-pubic school, taking a $20,000 pay cut. I thought the reduced stress would be worth it. Unfortunately, tighter finances have a way of creating their own stress. My health insurance premiums skyrocketed to over $750 a month. I had three children and high copays for office visits and prescriptions. Then I got pregnant. It was a difficult pregnancy. I was diagnosed with pre-eclampsia and antepartum depression. To make matters worse, my asthma spiraled out of control. I was hospitalized for over a week with a severe respiratory infection. Even with "good" insurance, I was having trouble making ends meet. I couldn't afford my copays. I didn't refill my meds. I got sicker and sicker. My blood pressure climbed higher and higher and eventually, my doctor ordered me on bed rest. Human resources denied my disability claim and my employer fired me for "abandoning my post" (despite documentation from my doctor). Because I no longer worked for a public school, I had no contract to protect me, no union to fight for me. I was now in my third trimester of a high risk pregnancy, sick, and unable to work. I had no income and no health insurance. The worst part of this story is that it is not unique. Nearly half of all births in Suffolk County are now covered by Medicaid. Yet many mothers across Long Island are saddled with huge bills for their labor and delivery, paying them off for years to come.
Medical expenses are currently the number one cause of bankruptcy in our country. So many of us are just one accident or diagnosis away from losing everything. For-profit insurance companies and big pharma are literally killing the middle class. Hard working Americans deserve better.
The silver lining is that we do have a better option - the New York Health Act! This legislation has passed the Assembly several years in a row and we are now the closest we have ever been in the Senate, with 32 cosponsors! Long Islanders need to call on their Senators and tell them to get on board. Then we need Senator Kemp Hannon, the chair of the Senate Health Committee to bring this legislation to a vote. Every year, he lets the bill languish, effectively killing the bill. It's time for us to say enough is enough. Healthcare is a human right and our elected officials need to stand for their constituents. The time has come to put patients over profits.
The Campaign for NY Health has been working on this issue for many years, but this year has seen an explosion of support. We need everyone to call their Senators, write letters to their local papers, and talk to their neighbors. We are so close to creating the nation's first Single Payer universal healthcare plan. The Campaign for New York Health has partnered with several Long Island groups including: Long Island Activists, PEER/NYPAN, NFFCG, the DSA and others to campaign for the New York Health Act.
Port Together
While Port Washington (in Nassau County, Long Island, New York) is perceived as a wealthy area, many low-income people live in the community. During March-April 2017, the staff at five organizations serving limited English proficient low-income immigrants in Port Washington were interviewed by Port Together members using survey questions. Port Together is a group of Port Washington residents who are concerned about social, economic and racial equity. The purpose of the interviews was to learn which issues are of greatest concern to the populations served by the organizations. The information from these interviews are presented below in the aggregate.
Top Concerns Identified by Service Providers in Port Washington, NY
The five service providers identified the following issues as those of greatest concern to the people they serve:
Immigration—deportation, ICE raids, separation from children, re-entering the US with certainty, fear of accessing services due to immigration status.

Worker rights—finding work; raids at work; employer wage theft; workplace injuries leading to termination; fear of retaliation for reporting workplace discrimination, injuries or wage theft.

Lack of decent affordable housing—fear of complaining to landlords about housing conditions.

Translation at local public schools—inability of parents to communicate at school meetings and with teachers/school personnel due to lack of translation, children having to serve as interpreters for their parents, lack of access to email means families miss information sent by schools.

Free/low-cost summer camp programs needed.

Complicated process to access government social services.

Free legal help unavailable.

Reliable public transportation prevents people from accessing services.

Adults unable to access health care and pay for medication.
Examples of Issues Faced by Port Washington Residents
The following are two examples given by the service providers of the kinds of actual situations faced by residents:
The school Open Houses are conducted only in English and many emails are sent only in English. As a result, many parents miss out on important information regarding their children's education.

A worker was injured on the job (cut herself while washing dishes) and had to go to ER for stitches and a doctor's note; her boss rippled up the note and was fired. Another person was burned on the job and was also fired.
Recommendations for Services and Programs Suggested by Service Providers
The service providers suggested the following services and programs as ways to help address the concerns voiced by residents:
Create a local one-stop center that provides information, job referrals, social services, English classes, and programs for new mothers who tend to be isolated.

Increase ESL, high school equivalency and computer classes, and vocational training.

Raise money for citizenship application fees.

Provide free legal services.

Provide translation in public schools.

Provide reliable public transportation to help people access services.

Fund a food voucher program.

Create a pharmacy voucher program.

Provide funding for summer camp programs.

Create decent, affordable housing.
Lastly, policy changes are needed at the federal, state and local levels.
Elaine Gross
Poverty is the result of deep systemic causes – particularly racism and discrimination.
Especially here on Long Island, one can draw a straight line from housing discrimination to poverty. Housing discrimination not only determines where people can live but also where they can go to school. Housing discrimination means housing segregation, which means school segregation. School segregation means inequitable educational resources and quality, which directly impacts one's ability to get a good job. Ongoing housing and school segregation means these factors and cycles extend from generation to generation.
Too many think of poverty as a result of personal failures – or, in the words of HUD Secretary Dr. Ben Carson "a state of mind." Too many stereotype people with limited incomes who receive assistance as gaming the system. This allows decision makers to devise ever stingier, short-term solutions. Just today, The Washington Post reported Congressional Republicans' proposal to "put every American applying for the earned-income tax credit (EITC) through a sort of mini-audit before getting their refund."
Until we acknowledge that poverty is not a "state of mind," we will never make a significant dent in what is a complex and systemic societal dysfunction. We have been unwilling thus far to confront the factors that trap subsequent generations in poverty. These include segregated schools, housing discrimination, employment discrimination, and an economic regime that produces too few decent paying jobs.
Poverty is not a lack of personal or moral character. It is a lack of economic resources. For far too many families, with one job loss or medical emergency they find themselves struggling with poverty.
Begrudging people their need for help will not solve the problem nor make us a better society or country. Only by achieving true equity in education, housing, health, and employment opportunity will we move forward.
Dorian Stern
In my role at The Interfaith Nutrition Network, though I don't have regular direct contact with the guests (our term for those individuals challenged by poverty), my function is to engage, observe and address the preconceived or general perceptions of prospective donors who have the inclination to help the agency help those in need. The majority of the donor prospects have a sincere level of compassion and an unbiased dedication to "pay it forward" and be investors in social change. Many understand how disproportionate Long Island living has become- housing costs continue to skyrocket and the term "affordable housing" is truly an oxymoron-as housing costs are no longer commensurate with the average wages for this area. Many existing and prospective supporters reflect their serious concerns about the disappearing "middle class" and how crucial it is that services like food pantries, soup kitchens and emergency shelters have to be made available since so many are finding "too much month at the end of their money" and food and shelter are becoming further out of reach. The injustice is that Long Island is mirroring the pace of metro NYC- our area is focusing more and more on the "1%-ers", those of "uber wealth" as it continues to negate the importance and necessity to preserve and propagate suitable offerings for "everyone" else. Poverty is a symptom of spiraling events, such as: schools in "depressed" areas not getting the supplies and attracting teachers on par with the "better performing schools"; a lack of functional and reliable public transportation; incentives for property developers to build truly affordable communities. Without the "working class"- gardens won't get cared for, restaurants won't have cooks, shops won't have personnel- it's a delicate balance that is being tipped in only one direction for far too long and at the expense of far too many.
The "textbook" definition of systematic poverty has its root causes connected to economic, political and racial/religious discrimination. Long Island tends to "think" it has insulated itself from what goes on in other areas- but that certainly doesn't mean we aren't guilty of these attitudes to some degree. Historically, most of LI's political landscape is Republican and conservative- which tends to find umbrage with the terms "entitlements and public assistance", displaying contempt for those in need without offering any tangible solutions. Sadly many neighborhoods have a prevailing sentiment of religious and racial bias and discriminatory practices, which, in some ways, are actually encouraged. Prejudice isn't something you're born with- it has to be taught. The NIMBY attitude is prevalent if not rampant in certain areas- and the boundary lines are getting even narrower as time goes by.
Social enterprise initiatives in other areas throughout the country have not only offered life-changing opportunities for those who were caught in the grips of poverty- but it has become the "new normal" of entrepreneurs who are looking for inventive investments that propagate social change. The media is full of profile studies of the Millennial Generation who are motivated more by the life they make than the wages they earn. Financial institutions need to review these business plans more seriously and angel investors should "seed the need" to break free from the "big corporate paradigms" of the past and make way for the "idea fertile" future. Teach "more people how to catch the fish" and cook it and serve it- instead of "the old"- giving of fish. Empowerment of the people, by the people and for the people- it works when it's given a chance to succeed.
On the political front- stop wasting time worrying about the "dead wood in Washington." Give much more concerted effort to knowing who is running your local school board, your judges in the courts, your town mayor or supervisor. Go to the town hall meetings on property development hearings, find out about how to rally and enforce the suggestion if not requirement- for safe, renewable energy (wind/solar) which would create new jobs, commensurate with the housing markets. Take back with action- give "the poor" their pride back by giving them something tangible they can aspire higher towards- break the cycle of generational poverty- caused when options no longer seem possible. Anything is possible- because NOTHING CHANGES IF NOTHING CHANGES.